Our Governors
Governors provide strategic leadership and accountability in all St Christopher's Multi Academy Trust schools however the ultimately responsibility for the school lies with the Board of Directors with much of the work delegated to the Local Governing Body (LGB).
The LGB has three core functions:
Ensuring clarity of vision, ethos and strategic direction
Holding the headteacher to account for the educational performance of the school and its pupils
Overseeing the financial performance of the school and making sure its money is well spent
Governors set the aims and objectives for the school and set the targets/policies for achieving those aims and objectives. They monitor and evaluate the progress the school is making and act as a source of challenge and support to the headteacher.
Governors bring a wide range of skills and expertise from their professional lives to the governing board and schools benefit greatly from working with skilled volunteers.
If you are interested in hearing more about becoming a governor please contact;
Meet Our Governors

Jo has 36 years working in the education sector, as a teacher, senior executive and executive coach. She specialises in Leadership and Governance, and Corporate Responsibility.
She recently moved to Churchill and is passionate about investing in young people, supporting them to flourish and grow.
An experienced Non Executive Director and governor in education, she is keen to share her skills with her new community.
She is also a keen gardener, having taken on a landscape garden which takes up most of her spare time.

Karen has been a parent at All Saints School since 2017 and has one daughter who attends the school. She lives in Axminster and is an active member of the local Baptist Church, where she has been involved in leading many different areas of the children's' and youth work over the last eight years.
Karen has been a Secondary School Teacher for nearly twenty years, specialising in Religious Studies. She is currently teaching RS part time at a Secondary School in Somerset.
Karen is keen to use her experience in both the education and voluntary setting to contribute to the governing body at All Saints.
Interests: Karen enjoys gardening and you will often see her out walking her dog in the local area.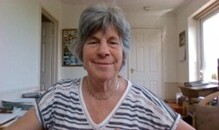 Vicky lives in Colyford where she has been Chapel Warden at St Michael's Chapel of Ease in the parish of St Andrew's Church, Colyton since 2013.
She is a retired teacher having enjoyed a career in six different primary and middle schools from 1971 – 1979 and then from 1987 – 2008. At the start of her teaching career she spent 8 years as a Scale 1 teacher and then moved to Scale 2 before leaving teaching to have her family of three children.
After her children were all at school she returned as a Scale 1 then Scale 2 teacher before moving on to a Deputy Headship in a Church School.
Vicky then worked as Head of two different schools before finishing with 9 months as Acting Head in a school which was in difficulties following the loss of their Headteacher.
Vicky retired in 2008 in order to be free to spend time looking after her grandchildren and as her husband had also retired by then.
After a while she was invited to take on the role of Clerk to Governors at a local school and she held this post for five years before retiring from working in schools in order to take up other interests and help with care of grandchildren who had increased in number by then.

Sarah lives in All Saints and recently retired after a thirty year international career in science and business.
She is a Trustee and Volunteer at Axminster Health and Wellbeing Centre and Axminster Food Bank, a Core Team Volunteer for StoplIne Way Junior parkrun and Seaton parkrun, and a Trustee of the Lute Society of Great Britain.
Saah is married with two stepchildren and 4 granddaughters. She enjoys wildlife gardening, running, reading, learning languages, and playing music.
Having benefited from inspiring state schools, teachers and university lecturers, Sarah wants to help the children, staff and community of All Saints School to thrive and lead happy and fulfilling lives.

Charlotte lives in Axminster and her daughter Sophia has attended All Saints School since September 2021. Her younger son is at Wise Owls Preschool on the school site and will also follow in his sister's footsteps.

Charlotte works at Wise Owls and has worked with children for ten years, she holds a degree in childcare and is passionate about equal opportunities for all children both professionally and personally. She is also the leader of the 1st Axminster Rainbows group.

Charlotte enjoys beach walks with her family and new addition Mabel the Cockapoo, baking, calligraphy and knitting! She's looking forward to being a part of the school that will be such a huge part of her family for many years to come!



As well as being the Clerk to Governors for All Saints school, Bec is also Clerk to Governors for Beer Primary School (Another school within the St Christopher's Trust), Clerk to Governors for West Hill Primary School and also Axmouth Parish Clerk.
Bec lives with her husband and two dogs. She enjoys walking, running and reading. She is a member of the Grizzly Committee and part of the Core Team for Seaton Parkrun.
Statutory Governance Information 2022-2023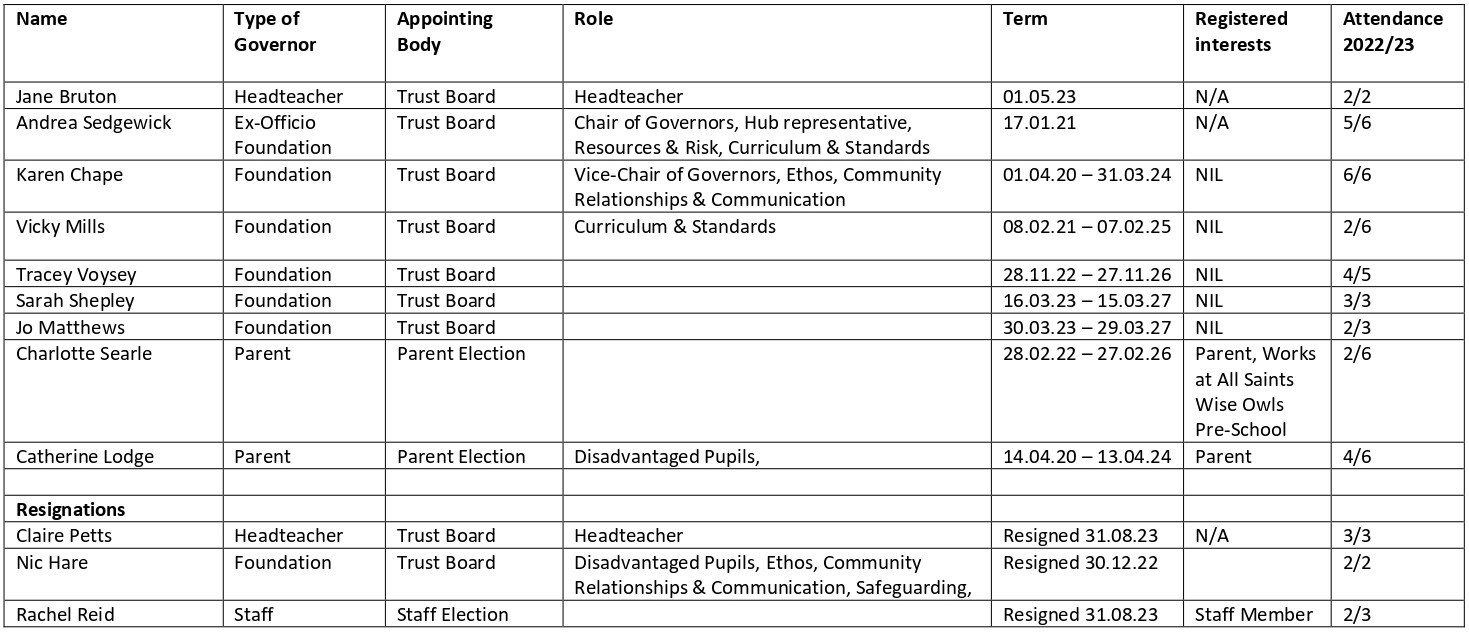 Board Diversity
The board believes that it is important that we reflect the diversity of the communities we serve. Diverse boards promote inclusive school environments and provide diverse role models for staff and young people. We collect data on the diversity of the board, including age, ethnicity, and gender and we use this data to inform our recruitment and training needs, ensuring there is always a diverse range of perspectives around the table to support robust decision making. We do not publish diversity data online as individual governors could be identified and we have a legal obligation to protect their personal data.